Des paroles de douceur,
Des moments de bonheur.
Des regards échangés,
Un zeste de complicité.
Des étoiles dans les yeux,
La joie d'être deux.
Main dans la main,
Suivre le même chemin.
Des rêves plein le coeur,
Que du plaisir, aucune rancoeur.
Aimer et oublier
Les blessures du passé.
Juste la magie de l'amour,
Une belle vie pour toujours.

Nos chemins se sont croisés
Nos yeux se sont accrochés

Ton sourire est devenu mon soleil
Ta tendresse une grande merveille.

Je t'offre dans mes mains
Mille baisers câlins
Pour que jamais tu n'en sois privé.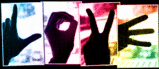 To love is to share life together
to build special plans just for two
to work side by side
and then smile with pride
as one by one, dreams all come true.

To love is to help and encourage
with smiles and sincere words of praise
to take time to share
to listen and care
in tender, affectionate ways.

To love is to have someone special
one who you can always depend
to be there through the years
sharing laughter and tears
as a partner, a lover, a friend.

To love is to make special memories
of moments you love to recall
of all the good things
that sharing life brings
love is the greatest of all.

I've learned the full meaning
of sharing and caring
and having my dreams all come true;
I've learned the full meaning
of being in love
by being and loving with you.
Je suis perdu, vois-tu,
je suis noyé,
inondé d'amour;
je ne sais plus si je vis,
si je mange,
si je respire,
si je parle;
je sais que je t'aime.